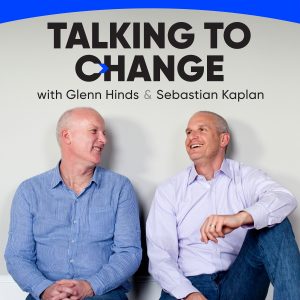 Welcome everyone to our Talking To Change – A Motivational Interviewing Podcast, where myself and Sebastian Kaplan will be exploring all things Motivational Interviewing.
Seb and I will publish conversations endeavouring to introduce and explain the key components of MI and its use in supporting individuals and group make health and lifestyle changes.
We are excited to confirm we will be speaking (from episode three onward) with leading global experts in Motivational Interviewing research, practice and training, including Prof. Stephen Rollnick, Prof. William R Miller, Dr. Stan Stendl, Dr. Chris Wagner, Dr. David Rosengren and others.
Topics include:- What is Motivational Interviewing, The Spirit of MI, The Person-Centred Approach & MI,  MI & Compassion, The Four Processes in MI Conversations,  MI in Health Care Settings,  MI in Psychiatric Care, Criminal Justice & MI and Ways of Learning MI.
In the first episode we introduce ourselves and describe our journeys of discovering and learning Motivational Interviewing and examine the 'Spirit' of Motivational Interviewing and some dilemma that learners have identified.
Together with inviting your feedback we also wish to offer you the opportunity to become involved in the discussions by sending in questions you wish us or our guests to consider.
To offer ideas for future episodes or pose questions
[contact-form to="podcast@glennhinds.com" subject="Podcast "][contact-field label="Name" type="name"][contact-field label="Email" type="email"][contact-field label="Feedback and/or Question" type="textarea"][/contact-form]
For All episodes CLICK HERE
Talking To Change – Episode One
Podcast: Play in new window | Download