MI in Peer Support Recovery Services 
We are happy to have had John Burns on to discuss MI in peer support recovery services. John is a person in long term recovery and a family member of a loved one who has struggled with substance use.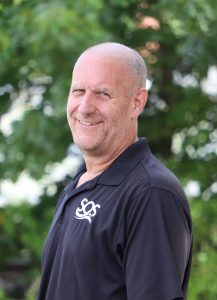 He is the director of SOS Recovery Community Organization with recovery community centers in Rochester, Dover and Hampton, NH.  John founded Families Hoping and Coping in 2014, a peer-based family support group for family members and loved ones of those struggling with substance use disorder.  Families Hoping and Coping has chapters that meet weekly in Dover and Portsmouth, NH.  He prides himself most on being an outspoken advocate for people who use drugs, building recovery-oriented systems of care, and promoting diversity, equity, inclusion, and justice for those marginalized who often are left without a voice and oppressed due to inhumane global, national and local drug policy.
John is a board member for the NH Harm Reduction Coalition.  He also serves on the NH Drug Overdose Fatality Review Commission and on the executive committee for the Strafford County, New Hampshire Public Health Advisory Committee.  
John became a member of the Motivational Interviewing Network of Trainers in 2021 and is involved in offering basic and advanced Motivational Interviewing workshops within the peer-recovery support service field several times a year.  He also has completed Motivational Interviewing Competency Assessment (MICA) training and provides coding and coaching services to his staff and recovery support providers across New England in an effort to expand motivational interviewing competency in the peer-assisted recovery service field.
John earned his MBA from Southern NH University and is credentialed as a Certified Recovery Support Worker (CRSW) in NH.  John has helped grow SOS from a $5000 all-volunteer effort in Sept 2016 into a robust program with 20 full-time employees and four recovery community centers.  All of SOS recovery centers recently became registered as syringe service providers in New Hampshire and provide safer injection supplies, safer smoking and safer sex supplies as well as naloxone and overdose prevention programs.  John and SOS have led numerous initiatives including a state-wide criminal justice recovery program and a national collaboration in digital recovery meetings offered 8 times a day, 7 days a week along with family support meetings nightly.
John has been involved in development of several curriculums with SOS including the Art & Science of Peer Assisted Recovery, Ethical Considerations for Peer-Assisted Recovery, Suicide Prevention for Peer-Assisted Recovery, HIV, AIDS and Hepatitis Prevention for Peer Assisted Recovery and more.  He has trained and developed curriculums for over 5 years now and speaks regularly to large audiences across the Northeast.
   00:00 – Introduction and episode preview
   04:30 – John's introduction and early MI story
   15:30 – Lessons learned from early experiences in recovery
   26:30 – John's "game changers" after learning client-centered approaches 
   34:00 – How MI helps in peer support settings 
   42:30 – The role of self-disclosure
   48:30 – Integrating peer support services within organizations and working alongside other professions 
   58:30 – Management of a peer recovery support organization 
1:04:00 – Furthering grass roots efforts through social enterprise models and greater access to housing
1:14:22 – Start of role play
1:29:52 – Role play debrief
1:43:14 – End of episode
Links and contact information:
Email: john@sosrco.org
Website: www.sosrco.org
For suggestions, questions and to enquire about training in Motivational Interviewing contact Glenn & Sebastian
Email: podcast@glennhinds.com
Twitter:
For all previous episodes CLICK HERE
We welcome all donations to support us
Podcast: Play in new window | Download
Subscribe: RSS