With customers across the UK, Ireland and United States, Glenn Hinds Motivation & Coaching Consultants value testimonials which provide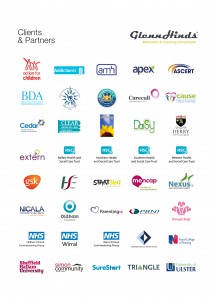 us with insights into how our training workshops and seminars assist staff and managers improve their practice and benefits their clients and staff.
In these financially challenging times, there is no doubt that agencies and leaders must carefully consider when, how and who they invest their limited resources when planning to maintain and develop success. Our focus in developing bespoke training assures your specific needs are met in highly engaging and interactive events that assist you overcome current and future challenges with staff, customers and clients.
On this page we have included recent testimonials received from commissioners and participants from across a wide range of disciplines and industries.
We recently received this feedback from a practitioner who attended a commissioned workshop exploring integrating Motivational Interviewing in family support interventions.
'I just wanted to let you know I have been using the skills you taught us in my new role as Family Support Practitioner . In this role I find the MI model offers our families an opportunity to reflect on the perceived 'issues' they have and really empower them to be part of the solution to their situation by praising their ability to cope to date and come up with their own plan to make the situation more tolerable
Yes it has challenged me as a practitioner to manage the silences not jump in with solutions and on many occasions challenge some of the 'policies' and practices in schools etc
I can honestly say from the very young children ,older kids and parents I support this approach truly takes away many barriers and offers a realistic and practical approach to supporting families who are generally quite vulnerable and in many cases would never dream they have the ability to add valuable input to the solutions for their situations
Thank you and keep up the good work'
Please feel free to add your feedback in the form below.
For more information about our training options contact Lisa at +44 (0)28 71860148 or email training@glennhinds.com
[contact-form to="training@glennhinds.com" subject="Testimonial From Website"][contact-field label="Name" type="name" required="1″][contact-field label="Email" type="email"][contact-field label="Website" type="url"][contact-field label="Your Feedback" type="textarea"][contact-field label="Training Attended" type="text" required="1″][contact-field label="Permission to Share" type="checkbox-multiple" required="1″ options="I give my permission for Glenn Hinds Motivation & Coaching Consultants to share my feedback,I give my permission for Glenn Hinds Motivation & Coaching Consultants to share my feedback without my name included,I do not give my permission for Glenn Hinds Motivation & Coaching Consultants to share my feedback"][/contact-form]