Learn Motivational Interviewing N'Ards 2023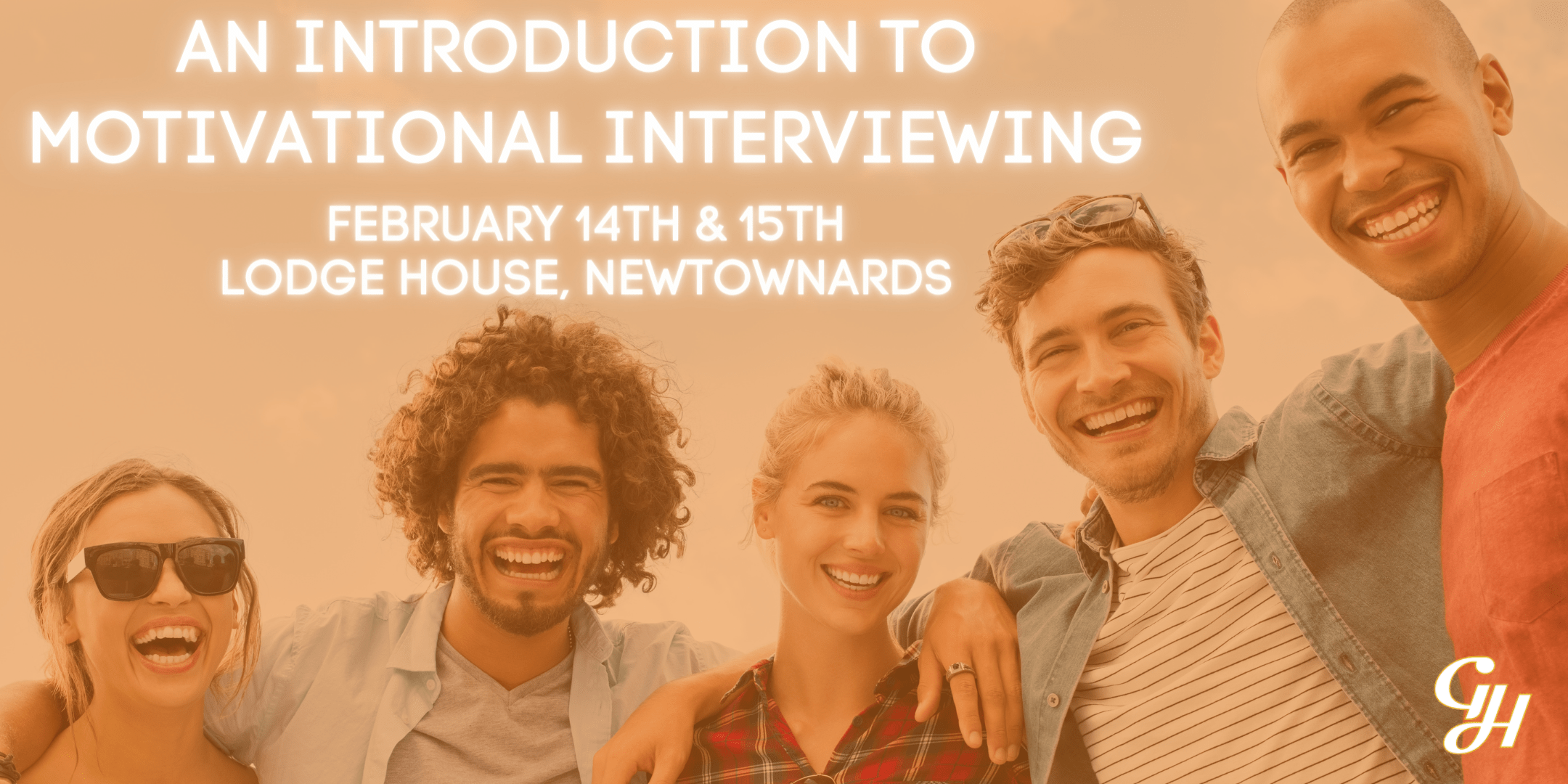 Learn Motivational Interviewing
This Introduction to Motivational Interviewing training workshop is ideal for everyone who has a role in helping others change health or lifestyle behaviours.
Learning Outcomes
Whether you are new to Motivational Interviewing or have already some knowledge or experience of using it in your work, this interactive skills focussed training will support you enhance your existing helping interventions and introduce you to understanding and integrating the essential elements of good MI practice.
Who Should Attend?
This training is designed for everyone who wants to introduce, develop and enhance their best-practice support of individuals' and/or groups' health and lifestyle changes.
People attending this course include, nurses, social workers, occupational therapists, clinical psychologists, youth workers, teachers, leaders, managers, psychiatrists, probation officers and others working in a variety of settings including: Education, Substance Misuse, Criminal Justice, Mental Health, Children & Family Services, Staff Wellbeing, Women's Services, and Primary Care.
Agenda
The training is scheduled 9.30am to 4.30pm, with lunch at 1.00pm and comfort breaks in the morning, and afternoon. 
What you will learn in each seminar
The training will be interactive and highly participatory with focus on:
1. The Spirit of MI: The attitude that informs the practitioners intervention and conversational style
2. The Core Skills of MI: The questioning and listening skills so significant in the success of every helping conversation.
3. The Four Processes of MI: Change is a process not an event, and recognising and understanding the flow of best practice and successful interventions will assist you be more engaged and supportive for your clients.
4. The Tools of MI: Learn how to effectively assess and develop an individual's readiness to change. Give advice and share information more efficiently and effectively understand and how to assist the client to resolve the 'barriers' to change.
How to get the most from the seminar series
Participants will have the opportunity to forward questions in advance of each seminar, and time will be provided to respond to queries as they arise during the presentation.
By using this online application you can claim 30% discount, simply click Individual With Discount.
Online Application Form
Glenn Hinds is an accredited counsellor and independent training consultant trained in person centred and psychodynamic counselling, motivational interviewing and emotional intelligence (EQ).
Glenn was trained to offer training in 'The Therapeutic Uses of Motivational Interviewing' by Professor William Miller in Crete, Greece 2003 and 'The Use of Motivational Interviewing in Primary Care' by Professor Steve Rollnick in Portland, USA 2004 and is a member of the International Motivational Interviewing Network of Trainers (MINT). He also completed Motivational Interviewing Training Integrity (MITI) training in March 2006 and Motivational Interviewing Supervisory Training (MIST) with Professor Miller and Dr. Terri Moyers in Albuquerque, January 2007.
A certified Emotional Intelligence practitioner and Advanced EQ trainer, Glenn also offers one to one coaching and organisational development workshops.
To listen to Talking To Change: A Motivational Interviewing Podcast