An Online Introduction to Motivational Interviewing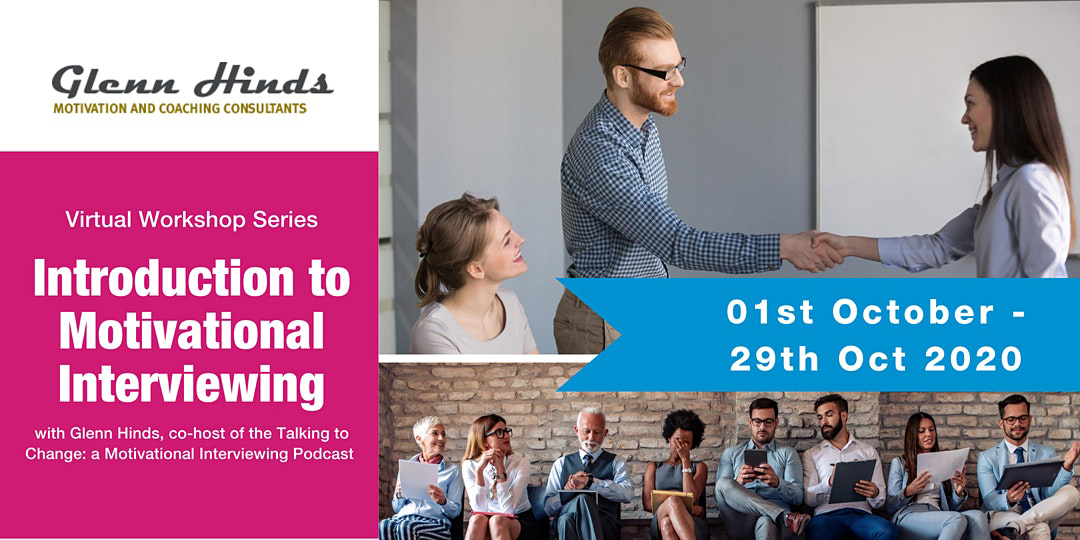 This series of 90 minute online Motivational Interviewing seminars is ideal for everyone who has a role in helping others change health or lifestyle behaviours.
Learning Outcomes
Whether you are new to Motivational Interviewing, or have already some knowledge or experience of using it in your work, this progressing seminar series will support you and enhance your existing helping interventions. It will also introduce you to understanding and integrating the essential elements of good MI practice.
Delivery Schedule
Each seminar is offered as both a stand-alone event, or you can book the entire series and save 33% on the overall price.
The Spirit of MI – 1st Oct
The Core Skills of MI – 8th Oct
The 4 Processes of MI – 15th Oct
The Tools of MI – 22nd Oct
Integrating MI into Practice – 29 Oct
What you will learn in each seminar
1. The Spirit of MI: The attitude that informs the practitioners intervention and conversational style.
2. The Core Skills of MI: The questioning and listening skills so significant in the success of every helping conversation.
3. The Four Processes of MI: Change is a process not an event, and recognising and understanding the flow of best practice and successful interventions will assist you be more engaged and supportive for your clients.
4. The Tools of MI: Learn how to effectively assess and develop an individual's readiness to change. Give advice and share information more efficiently and effectively understand and how to assist the client to resolve the 'barriers' to change.
5. Integrating MI into Practice: An opportunity to explore and reflect upon your use of learning from seminars 1 – 4 and to practice with others with mentoring support and participate in trainer led modelling of MI in practice.
How to get the most from the seminar series
Participants will have the opportunity to forward questions in advance of each seminar, and time will be provided to respond to queries as they arise during the presentation.
If you have any questions or wish to discuss the training email training@glennhinds.com
https://www.glennhinds.com/category/podcast/
Online Motivational Interviewing   
Details & Venue
Date: Thu 1 October
Time: 2:00 pm - 3:30 pm
Glenn Hinds Motivation & Coaching Consultants
77 Great James Street, DERRY.
Contact: Glenn Hinds
Telephone: 0044776376448
Course Information:
Click image below to download